In the past weeks, we have discussed most of the important factors that go into finding your  wedding gown and creating the perfect look for your wedding day. Today, we're going to discuss a topic that, unfortunately, is growing in popularity: Counterfeit bridal gown websites. Today, there are over 4,000+ counterfeit wedding gown websites, and the number increases every day. These websites are often from counterfeit companies overseas and they offer "designer" gowns at incredibly low prices.
Given the high price tag of wedding dresses in boutiques and department stores, it's no wonder brides-to-be are searching for cheaper alternatives online. But the beautiful bridal gowns pictured on websites are often startlingly different than the dresses that arrive on your doorstep, and it's increasingly harder to know which online sites are real.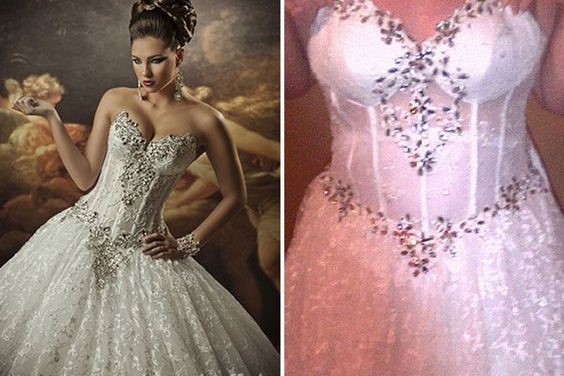 Of course we all know that weddings can get expensive. However, if you are going to cut corners on something, choose anything but your wedding gown. Most of these counterfeit sites offer expensive and gorgeous gowns for majorly discounted prices. We're talking $4,000 gowns being offered at $170. Now at first glance, that's a steal! However, you're not really saving any money this way. Once you receive this knock off gown, you quickly realize that your gown has obvious differences from the gown you thought you ordered.
When you purchase a counterfeit wedding gown and realize that it is in fact a counterfeit, your first instinct is to contact the seller. A common result with this is that brides will find the website they purchased their gown from has been shut down. Or, when you go back to the website to find the seller's contact information you will find that they don't have a working phone number. Another common result is the website states they have a no refund or return policy. Whichever response you get, you still end up out of money and time.
Several Facebook pages including Brides Beware, Knockoff Nightmares and International Ownership, collect photos documenting the brides' online shopping horror stories. We've included some of these shocking photos!
A quick google search for 'cheap wedding dresses' brings up endless websites offering economical alternatives – some with their original designs and others promising to create copies of designer wedding gowns. But given the flock of disappointed brides sharing their wedding dress nightmares, it seems that buying a dress online can be filled with issues. So what's a thrifty bride-to-be supposed to do?
Why not come visit GARNET + grace Bridal Boutique! Here we offer new designer wedding gowns at a fraction of the cost of high priced bridal boutiques. There are no surprises here, come try on your actual gown and feel the quality! Looking for extra savings? Remember our first time brides save $200 on their dream wedding gowns! Call today to book your appointment with our stylists at our Whittier bridal store or Hayward bridal boutique!