Thanksgiving is around the corner and while everyone is preparing their turkeys, we're preparing for our Black Friday/White Saturday Sample Sale! Brides will be able to save $400 off select dresses, get a free plastic zipper garment bag, and a free veil! You will not want to wait to book your appointment because spots are filling up fast! We are always excited to help brides find their wedding gown at a great price. Here are 3 tips for shopping a wedding dress sample sale to help us help you find your perfect dress during our Black Friday / White Saturday wedding dress sale.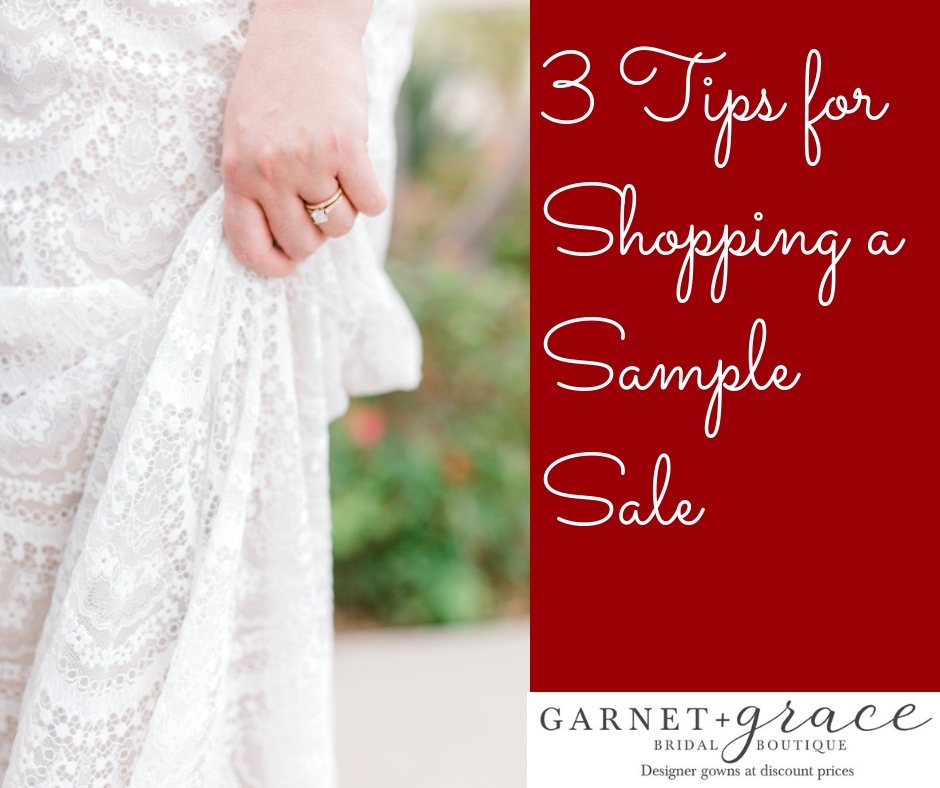 Tip#1 Know your wedding dress budget
Before coming in you'll want to know what your bridal gown budget is. Whether you're paying for the dress yourself or have someone else paying for it, take a moment before the appointment to know how much you'll want to spend on the wedding dress. Coming in during the sale will open up your selection of wedding dresses since you'll be able to save $400 on select wedding dresses. Let's say your budget is $1000–during the sale your stylist will be able to pick wedding dresses at $1,400 leaving the off the rack wedding dress right at your budget after the discount!
Tip #2 Know your style
We know that your Pinterest board is filled with dreamy wedding dresses. Bring those inspiration photos in for your appointment so we know what your style is and what you're going for. Keep in mind that one you try on a couple of bridal gowns your style preferences might change. If you come in looking for a mermaid style wedding gown, but fall in love with a ball gown that's ok! It happens more often than you think.
Tip #3 Bring your top 3 guests to your appointment
There will be many people wanting to join you in the special moment that is finding your wedding dress. Our brides often find that bringing more than three people can make them feel a bit overwhelmed. While everyone wants the best for you, too many opinions can stop a bride from saying yes to her favorite wedding dress. By bringing your closest 3 family or friends you'll be able to make your own decision on the bridal dress. If you'rr torn between two bridal gowns, you'll still have your guests here to help you. We can help everyone that wanted to come with you still feel included by booking a VIB reveal appointment for $50. You can bring up to 5 guests and you'll get a bottle of champagne to show them the discount designer wedding dress that you choose!
Don't forget to book your bridal gown shopping appointment as soon as possible! This two day sale is perfect for any bride looking to save some cash on their wedding dress while still getting an amazing off the rack designer bridal gown. Use our 3 tips for shopping a wedding dress sample sale, and don't miss out on our Black Friday/ White Saturday sale November 23rd-24th. Book your appointment today!