What is an off the rack wedding dress store?
Most wedding dress stores order sample wedding dresses in sizes 8 to 12 and then order you a wedding gown based on your measurements. GARNET + grace Bridal Boutique is different. We sell all of our designer wedding dresses right off the rack, so there's no long wait for your gown. You get to see and feel YOUR exact dress, so you don't have to worry about a dress coming in the wrong size or color or getting delayed (we've heard all those horror stories!). We buy our bridal gowns in bulk direct from the designers so we can sell our gowns at lower prices than other stores – up to 60% off retail prices!
Most of our bridal gowns are priced $499 – $3200 (occasionally a bit more), with the average around $1,200. We also have a great wedding dress payment plan. Ask your stylist for details. If you're looking for a cheap wedding dress, sign up for our email list to be notified of our big sample sales, where wedding gowns are typically under $500!
What size wedding dresses do you carry?
We carry sizes 0 to 30 in bridal gowns. Most bridal boutiques carry wedding gowns in sizes 8 to 12 to try on. We know it's just as important for petite and plus size brides to try on their gown before buying, so we make a concerted effort to bring in gowns in smaller sizes, like 0 to 6, as well as sizes 16 and up.
What wedding dress designers do you carry?
Because we're an off the rack bridal boutique, our wedding gown selection is always changing. We buy our gowns direct from some designers, but also from other stores. We travel to the national bridal markets to connect with designers to bring you today's trends.
We've carried the following major wedding dress designers in our stores: Allure Bridals, Allure Romance, Stella York, Essence of Australia, Pronovias, Luna Novias, Rosa Clara, Watters, Wtoo, Ti Adora, Maggie Sottero, Casablanca Bridal, Justin Alexander, Sincerity Bridal, Lillian West, Moonlight Bridal, Aire Barcelone, Christina Wu, Mon Cheri, Sophia Tolli, Kitty Chen, Kenneth Winston and more. We also carry boutique collections not found online and gowns from independent brands. We want our selection to be large and unique with over 500 wedding dresses in stock.
Where are you located?
GARNET + grace Bridal Boutique has two locations. One is located in Whittier, California in the Los Angeles area, while the other is in Hayward, California near Oakland. We have a huge, free lot for our LA store, but we recommend carpooling to our Bay Area store. Find maps and hours on our Locations Page.
Do you charge for appointments?
There is no charge for two visits to our bridal stores. For an extra special shopping experience, you might want to book a VIB Appointment. While all of our brides receive personalized service and expert help from one of our trained bridal stylists, brides who desire additional pampering may choose to schedule a VIB Appointment. When booking a VIB Appointment, brides will receive:
An individualized assessment for body type and personal style.
A Senior Stylist for one-on-one assistance.
Complementary bottle of champagne.
Dedicated space to bring more guests – we can seat up to five people during a VIB Appointment!
This ultimate shopping experience is perfect for up to five of your closest friends and family members. The $75 is due at booking and is non-refundable for any reason.

We do require a credit card to schedule any type of bridal gown shopping appointment. Clients who do not call to cancel or reschedule 48 hours or more before their appointment may be subject to a $50 no show fee. GARNET + grace has limited appointments due to social distancing requirements, and we appreciate your understanding.
You can book online using our Appointments Page. Just use the drop down menu from the top to pick your preferred location.
Do I need an appointment to go wedding dress shopping?
It's not necessary, but we really like to work with brides one on one. We can't give you our best level of service if we don't have a stylist (or a room!) available for you. We always do our best to accommodate walk in brides.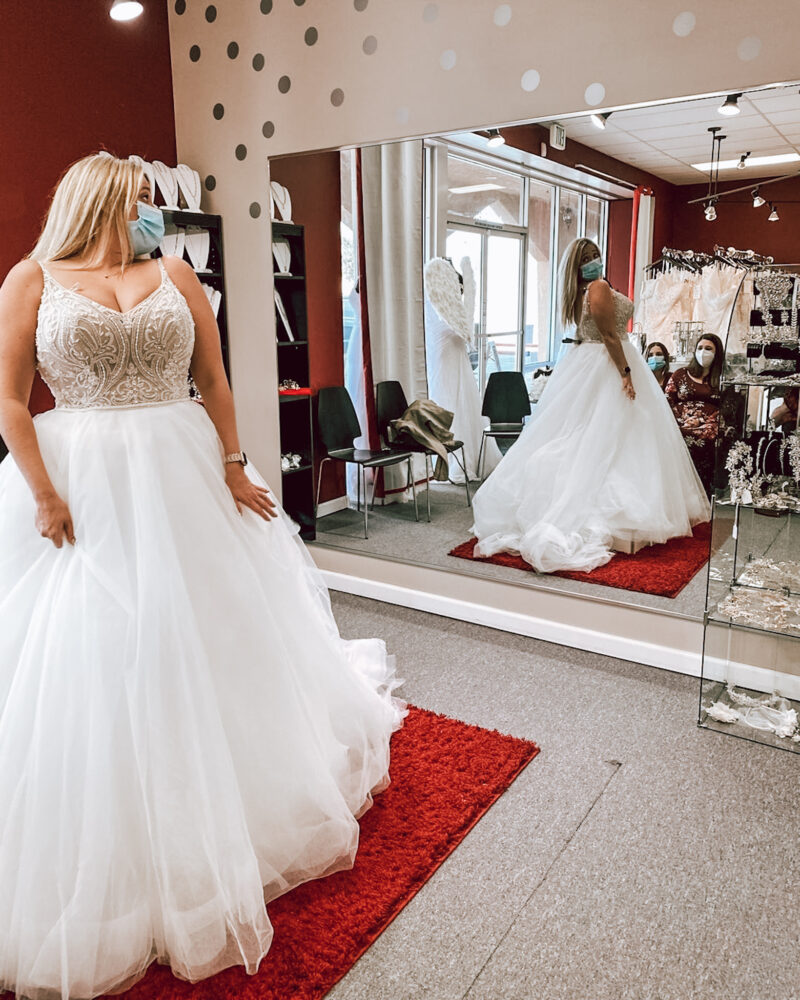 Do you offer Champagne Bridal Appointments?
Yes! We offer VIB appointments in both our bridal stores. For $75 you share a bottle of champagne and a sweet treat, work with a Senior Stylist during your 90 minute appointment, and are able to bring up to five guests. 
What are the COVID-19 wedding dress shopping protocols in place?
We are adhering to all local COVID-19 guidelines for physical distancing and capacity limitations in our stores. All clients and stylists are required to wear masks. If you feel more comfortable getting into gowns by yourself, your consultant can wait outside the room.
Are LGBTQ clients welcome at GARNET + grace?
Yes! We celebrate all kinds of love at GARNET + grace, so all LGBTQ clients are welcome. If you have special circumstances or want to speak with a manager about your shopping experience in advance, feel free to call us!
How long do bridal appointments last?
We book first visit appointments for one and a half hours.
How soon should I shop for my bridal gown?
Most experts recommend you purchase your wedding gown about a year in advance. But not everyone has that much time! GARNET + grace is the perfect solution for all brides because we sell all of our designer wedding gowns off the rack, so whether you have one year or more or just one week before you wedding, we have the bridal gown for you!
Can I bring my family with me as I try on dresses?
Please do! We can seat two to three guests at your appointment. Please call to schedule an appointment for a larger group.
What is your refund policy?
We're unable to issue refunds due to the uniqueness of each dress.
Do I need to tip my consultant?
Tips are never required but greatly appreciated.
Can we take photos?
Gosh yes! We'll even help because we know how to get that camera angle just right!
If you have any questions that we haven't already answered, feel free to give us a call, or send us an email.