As a new bride, it can be overwhelming stepping into the world of bridal. You may have heard many different opinions and stories on what finding the wedding dress of your dreams may be like; I'll be the first to tell you every bride's story is truly her own. Here are 5 reasons to buy an off the rack wedding dress.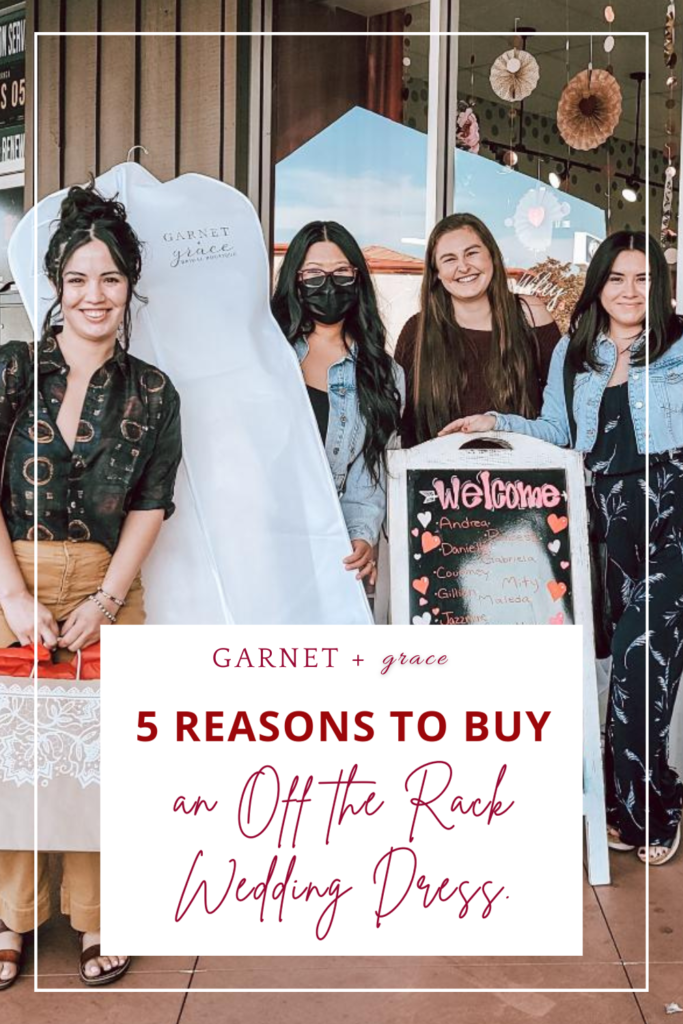 One of the first big decisions is figuring out where to shop for your wedding dress. You have the option of shopping to custom order a wedding dress or buy off the rack. With a bridal shop that requires a bride to order dresses in their size, it can be difficult to really feel and see what the end result will look like. At our off-the-rack bridal boutique, you come in and try on your appropriate wedding dress size and have the opportunity to take your bridal gown home that day. Getting to constantly remind yourself how beautiful your dress, is instead of waiting a year to finally see the end result, is a stress-free way to make the wedding planning process easy and fun!
Life can be unpredictable at times and wedding planning can be stressful as well. Shopping off the rack is a great way of ensuring yourself less stress from the moment you start shopping. Trying on a wedding dress and getting it off the rack will ensure it will be safe in your closet until the big day. Without having the worries of shipping, waiting months for it to arrive, and starting alterations later than expected. In times like these when people are ordering their dress, there can be issues with manufacturing, shipping possibly overseas, to stores closing down which leads to many different circumstances that are unexpected. Buying off the rack will ensure that these circumstances do not arise for the bride.
Brides come in looking for designer wedding dresses and there is an extra benefit to buying them off the rack. Many designers don't allow certain customizations to their gowns when shopping to order. As opposed to off-the-rack, brides can explore their creative side by personalizing their dream designer dress. Popular customizations such as building up a neckline, lining a bodice, or removing unwanted appliqué, are restricted modifications that designers may not allow. Modifications by the designer to keep their original design intact.
Brides buying off the rack can feel a sense of relief knowing that they can purchase a wedding dress, take it home and have it secured in their closet, and have an option to alter their wedding dress the way you will like. Wedding dress shopping is supposed to be fun, stress-free, and memorable, an off-the-rack experience will be all that and more.