The age-old question of wedding dresses, is what straps work best for your big day. One of the most popular strap options is spaghetti strap wedding dresses – is this look for you? Spaghetti straps show off the beauty of the dress while giving support and comfort. Today you'll see different ways spaghetti straps have been used in amazing wedding dresses while also understanding some of the pros and cons of having thin straps, thick, lace or other strap options. So sit back and enjoy this beautiful line up of wedding gowns with spaghetti straps.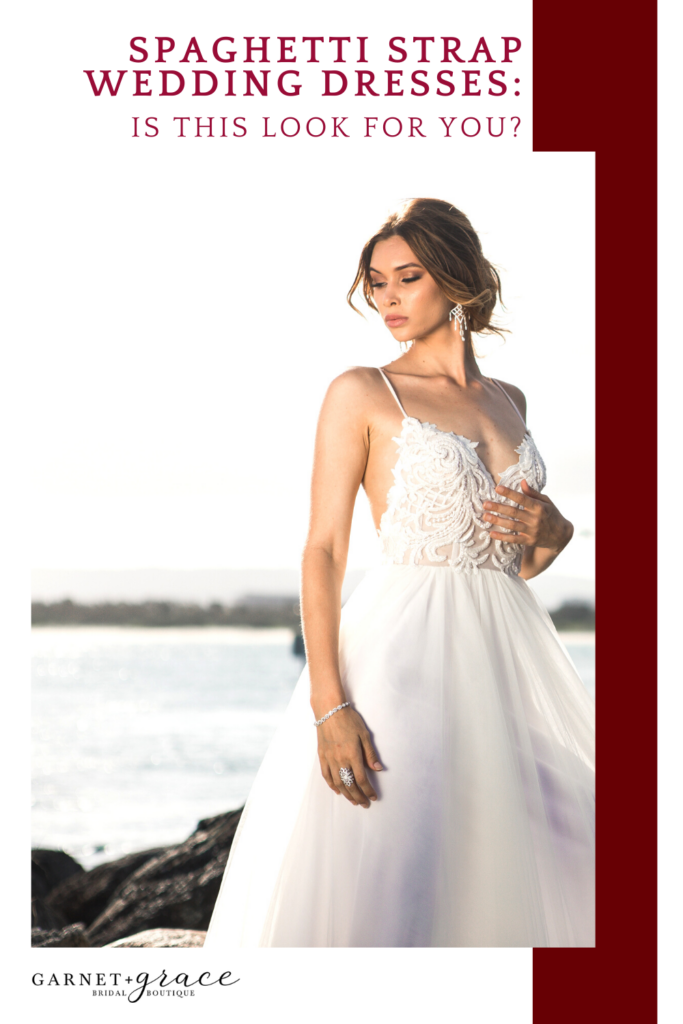 First in our lineup is this beautiful modern lace sheath gown with lined beading along the border of the bodice and a low back with a beading strapped detail. This spaghetti strap lace sheath wedding gown is perfect for the bride that loves the glam look but wants the romance of a low back. The pros of this wedding dress are that the straps are beaded, so it flows perfectly and adds beauty to the quality of the dress. The cons are you might need more support in your bust area. The combination of a low back with a thin strap may be a challenge to some. This dress is designed by Jaquelyn Exclusive, it is a size 6 and retails $1499 in our Los Angeles, California area bridal store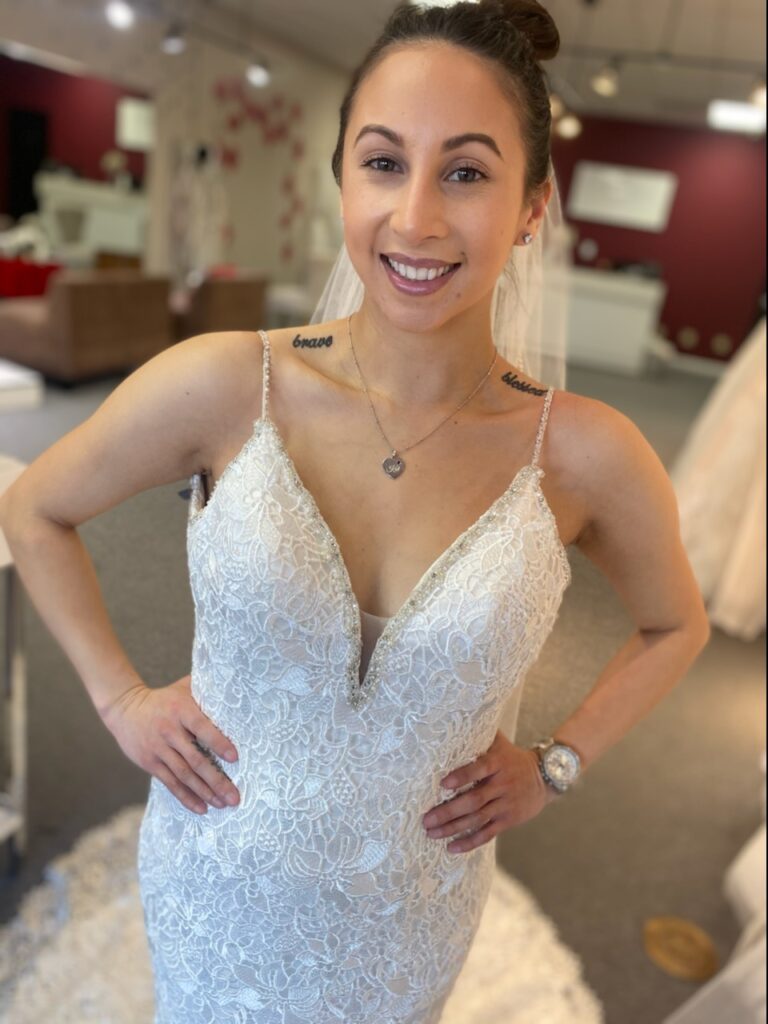 Next on the line up is this gorgeous Enzoani brand ballgown wedding dress with a fully beaded bodice and a soft tulle skirt with horsehair accents. This wedding dress is perfect for the bride that wants to have fun on their big day and be as glamorous as a princess. This spaghetti strap is lightly beaded then flows back into a three beautiful thin strap scoop on the back of the bride. The pro to this dress is the design of the thin straps and the con would be you might feel like the multiple straps are too busy. This comes in a size 12,  retailing for $1999 in our Whittier, California bridal store.
After seeing the different spaghetti strap options, we hope this will help you find the dress of your dreams. Try it on see if this look is right for you and enjoy your perfect dress on your perfect day. You can find all of these beautiful wedding dresses at GARNET + grace Bridal Boutique. Remember, our wedding gowns are all sold off the rack and are one of a kind, so once they're gone, they're gone!
Please call for more information LA :562-315-5581 OAK: 510-363-9857. If you're looking for a Enzoani wedding dress on sale, visit us March 13th – 28th to save 20% on any Enzoani, Blue, or Beautiful brand wedding dress in both of our stores!