A wedding dress with a hidden feature, like a detachable strap, pockets, a leg slit, or detachable skirts and capes were truly designed for the modern day bride. We know that in 2023 we are always on the go, carrying our phones in hand every second in every day to snap that photo or make that phone call. We are open and expressive and we love to use our whole bodies to express ourselves. We are finished with getting trapped under layers and layers of fabric for multiple hours at a time. Here are some fun wedding dresses with hidden features in our Whittier, California bridal shop.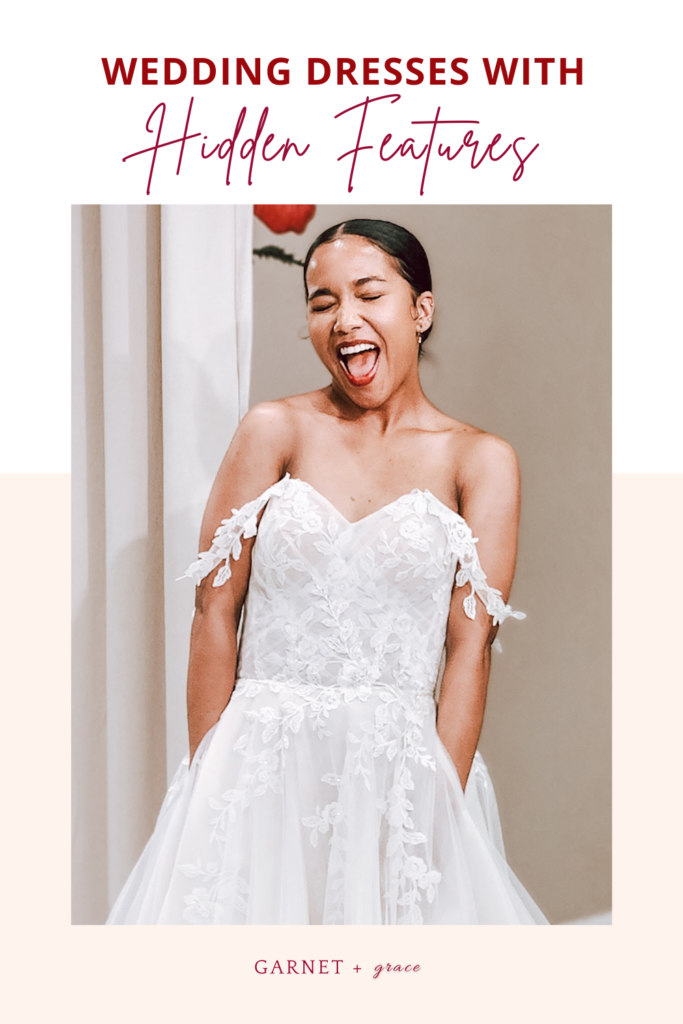 Detachable straps is the perfect accessory for your wedding dress that gives you that romantic look of your wildest dreams while also giving you the freedom to be a 21st century bride. The off-the-shoulder style has been around for decades, often accompanying a beautiful ballgown in everyone's favorite fictional romantic story. They symbolize grace, elegance, and royalty, but they are terribly difficult to move your arms in. Today's bride has far too much to do, like dancing, taking photos, making last minute planning decisions, and helping everything run smoothly, so having arm restrictions can be very inconvenient. By making them detachable with snap buttons hidden inside the wedding dress, brides can keep the elegant look and remove them when it's time to move around. 
The biggest modern trend in wedding dresses right now is the leg slit, or a "split" as it is also called by our brides. A leg slit is where the skirt is cut to allow the bride to reveal her shoes and part of her leg, depending on how high the slit can go up the leg. They can be made into wedding dresses or they can be customized in alterations. Besides showing off a little more of your body in any dress of a bride's choosing, a leg slit provides more functionality than initially meets the eye. With the skirt split open during a hot Summer's wedding day, or at your destination wedding, it allows for the air to flow through the dress to keep the bride from getting too hot. It also makes things like walking, sitting, or using the restroom so much easier! It's the perfect combination of expression and functionality to help the modern bride feel gorgeous, romantic, and empowered all at the same time.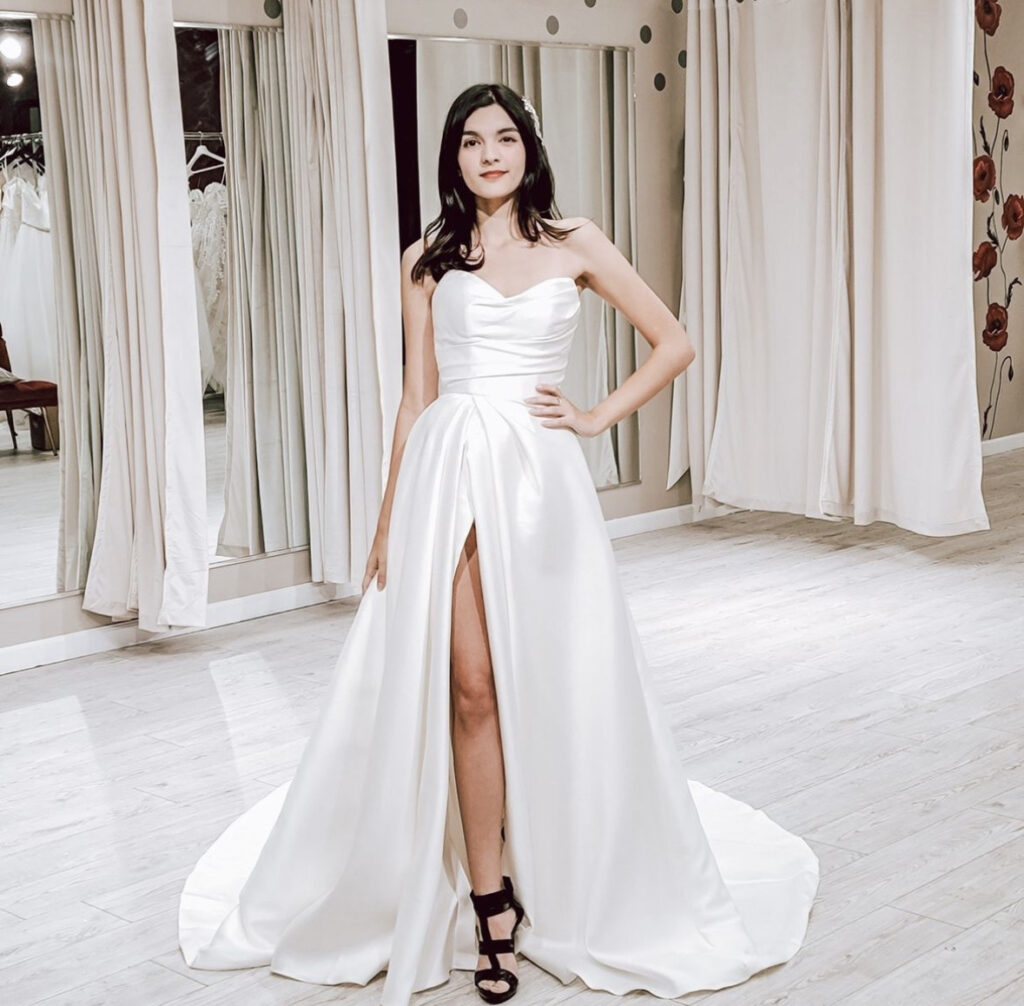 The number one feature that always puts a smile on all of our brides is the discovery of a pocket built-in to their wedding dresses. It is a joy to watch their faces light up the first time they try to put their hands in their pockets. The fashion industry in the last decade has failed to provide us with regular every day clothes with a good pocket to hold our stuff, forcing us to invest money in multiple bags that make our shoulders hurt. Pockets in your wedding dress changes the game!! You can hold your phone, tissues, your snacks, or anything you want!!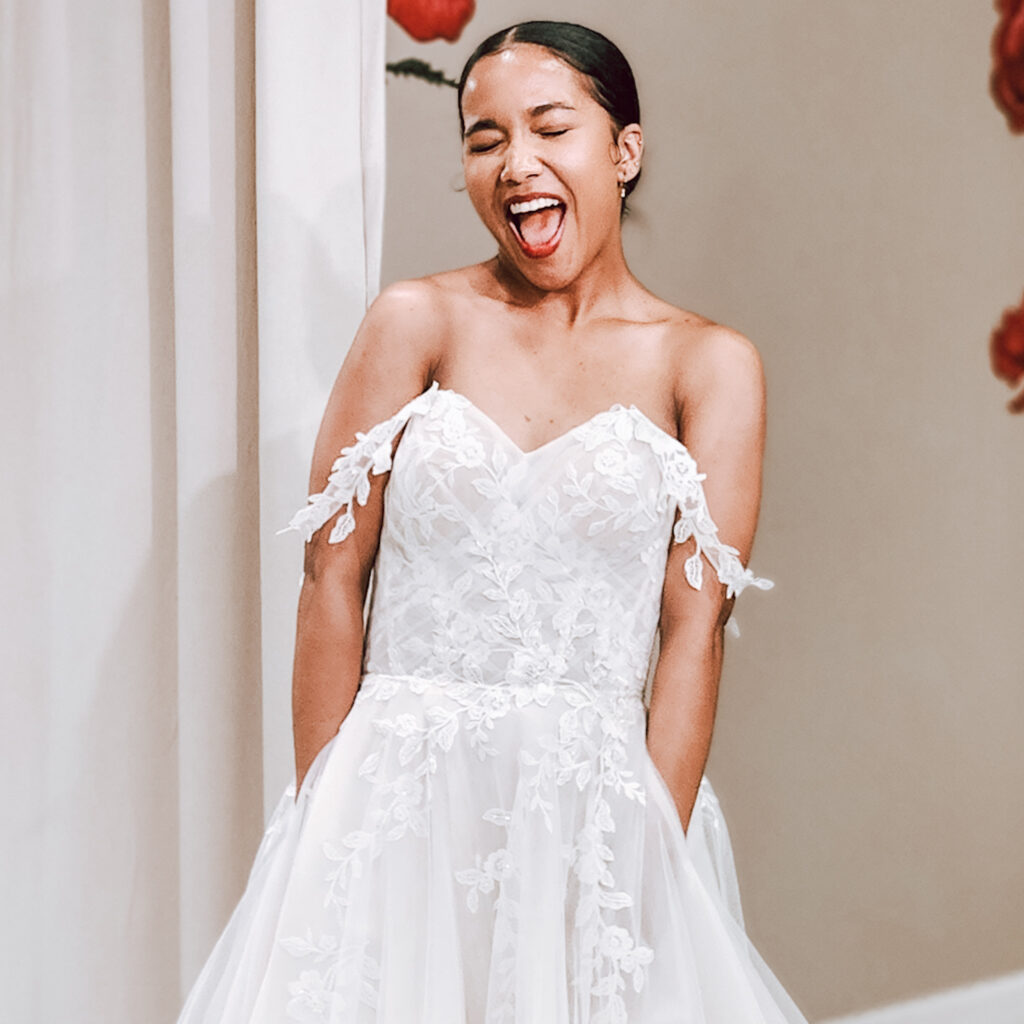 We recommend choosing a wedding dress that YOU love, but these fun wedding dresses with hidden features provide just a little extra bonus when you say yes to your wedding dress in our Whittier, California or Hayward, California bridal stores!