You did it! You booked your appointment, came into the bridal store, tried on a few wedding dresses, made some difficult decisions, and finally you have found your YES DRESS! But wait!! You're not done yet! It's time to accessorize! When it comes to accessorizing it can feel like an overwhelming task especially when you don't even know where to start! Luckily, here are 3 tips for accessorizing your wedding dress!!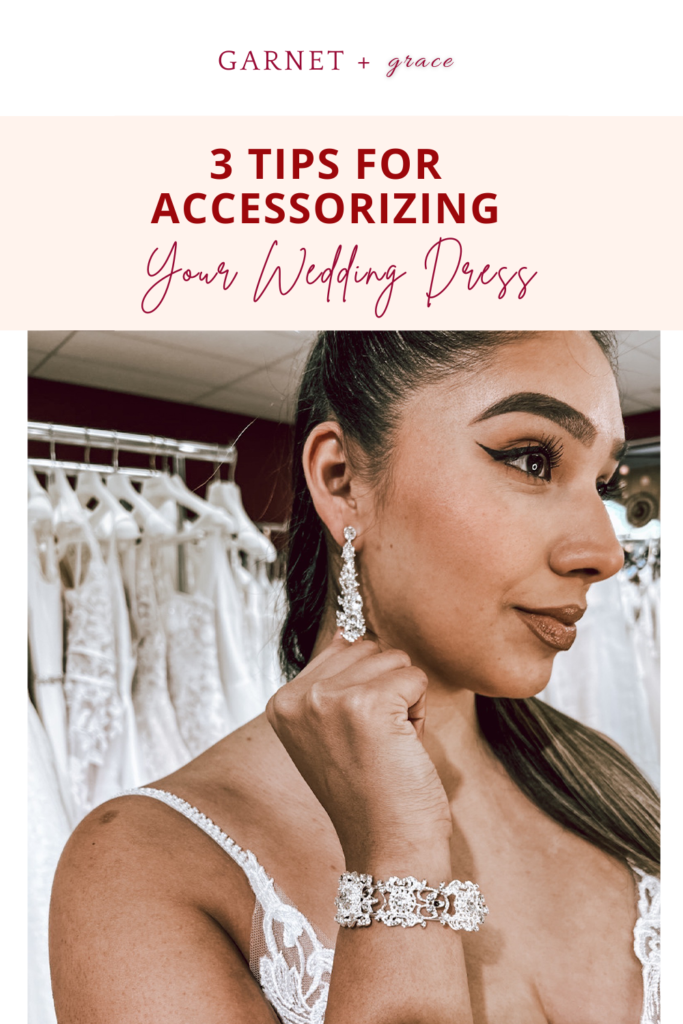 Tip #1: To Veil or Not To Veil?
When deciding whether or not to wear a veil ALWAYS try one on. There have been instances where brides come in with the mindset of not wanting a veil however after trying one on it completely changes their look and levels them up! If you truly don't like the veil its perfectly okay! There are other options to help accessorize which will talk about in tip #2.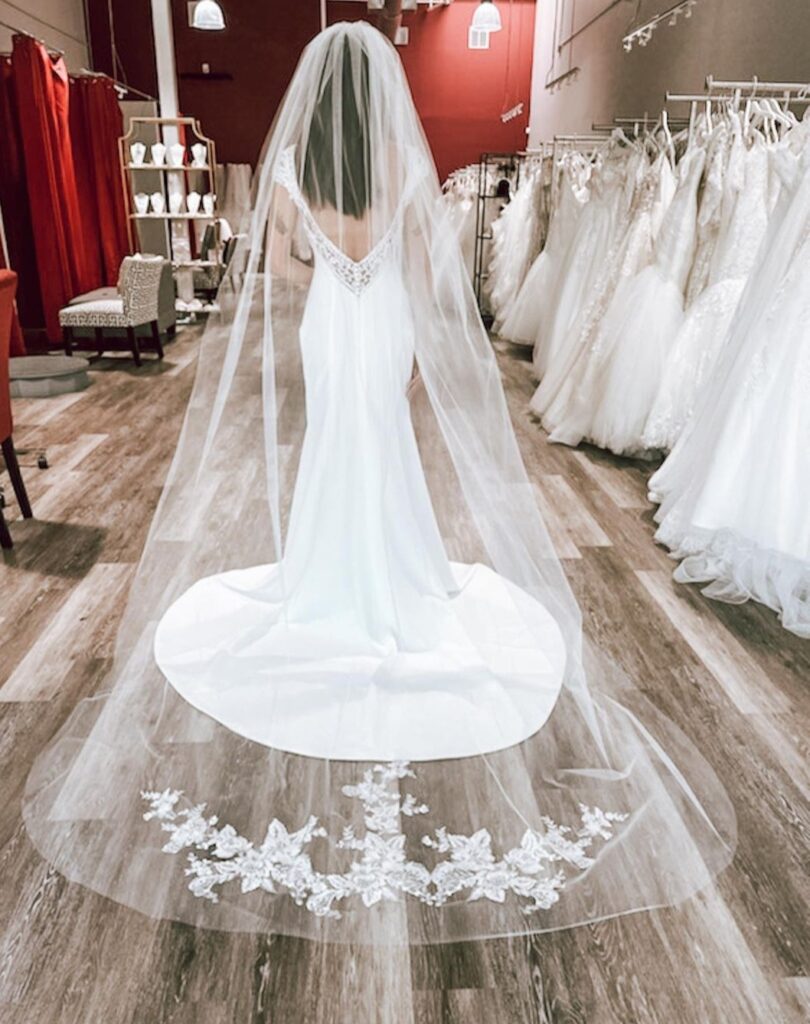 When choosing the right veil it's important that you match the color of your veil to your wedding dress so the look is cohesive. An ivory veil paired with a white wedding dress may make the veil look worn down. Same goes with a champagne veil paired with an ivory wedding dress; the champagne color may come off as dirty or worn compared to the ivory wedding dress.
When it comes to the size of the veil it all depends on how you wish for the veil to compliment your body. Are you short or petite and want your body to be elongated? Go with a cathedral veil. If you're tall already and want to avoid looking even taller, go with a fingertip veil to help balance your height. If either of those don't seem right then go with a short veil! Short veils for the most part work with all sizes and also frames the face very nicely.
Tip #2: Jewelry For The Win!
When it comes to picking jewelry its important that we keep the focal point on any unique detailing. For example, when going with a strapless wedding gown, plunge, or sweetheart neckline hold off on the necklace and go for a pair of elegant earrings. This will help keep the focal point on the wedding dress bodice while still giving some framing to the face. In many cases brides want to wear a family heirloom, or a necklace that was gifted to them to where on their wedding day. If this is the case, a v neck wedding gown will compliment the necklace making the necklace the focal point on your décolletage. Don't forget your hair! Hair pieces, crystal pins, crowns, and flower crowns are a great way to add some bling without disturbing the look of the dress!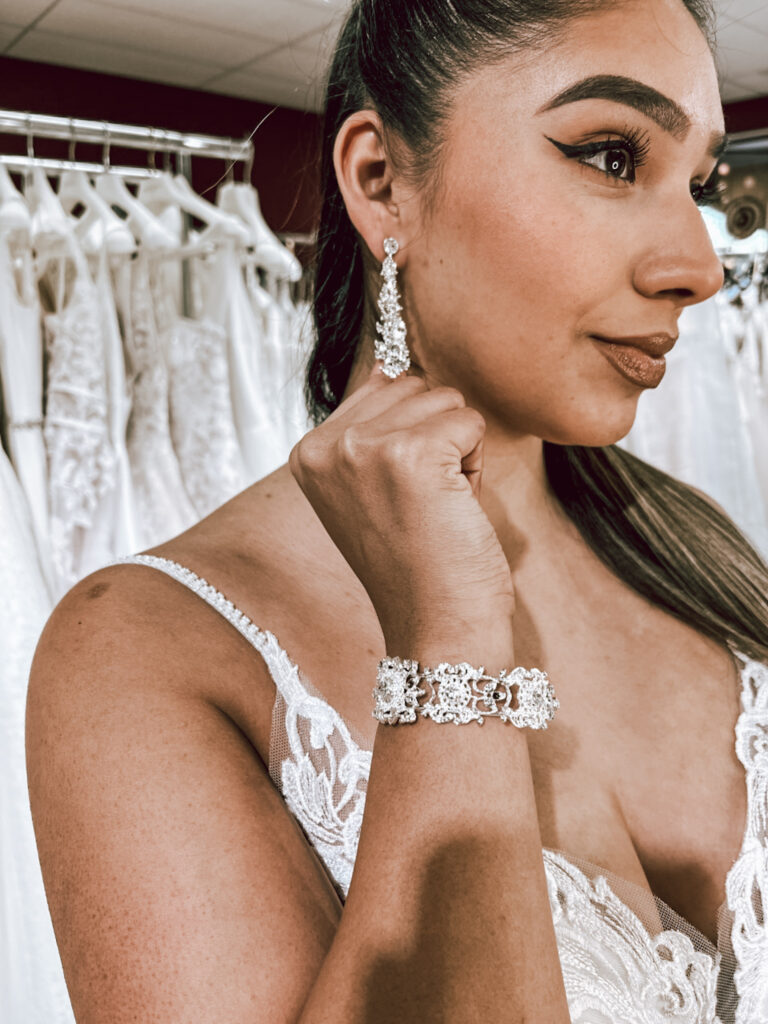 Tip #3: Think Outside The Dress
Outside of jewelry and veils there are other ways to add to your wedding dress to complete the look! First off we have a bolero. Adding a bolero can add some coverage while still keeping that elevated look. Second off we have detachable overskirts skirts. If you're one that likes the fullness of wedding dresses but also wants to be comfortable during the reception a detachable skirt is the way to go! It always for beautiful pictures with that full look and once you're ready to party you can take it right off! Lastly we have capes! Capes are great alternative for veils. Depending on the length it can still help elongate your body and gives you that flare for when you're walking!
GARNET + grace Bridal Boutique in the Oakland, California and Los Angeles, California metro areas both offer free accessory appointments where you can bring in your wedding dress and try our large selection of unique wedding dress accessories. Book your visit today!