Calling all budget-minded brides! Are you getting married fast and need designer-quality for a fraction of the price in bridal boutiques? Are you just looking for something under $100 and have no idea what you want in a wedding dress? Are you ready for a great deal and have an open mind for your wedding vision? Our $99 Wedding Dress Sale Day on July 14th may be the best, and only, day for you!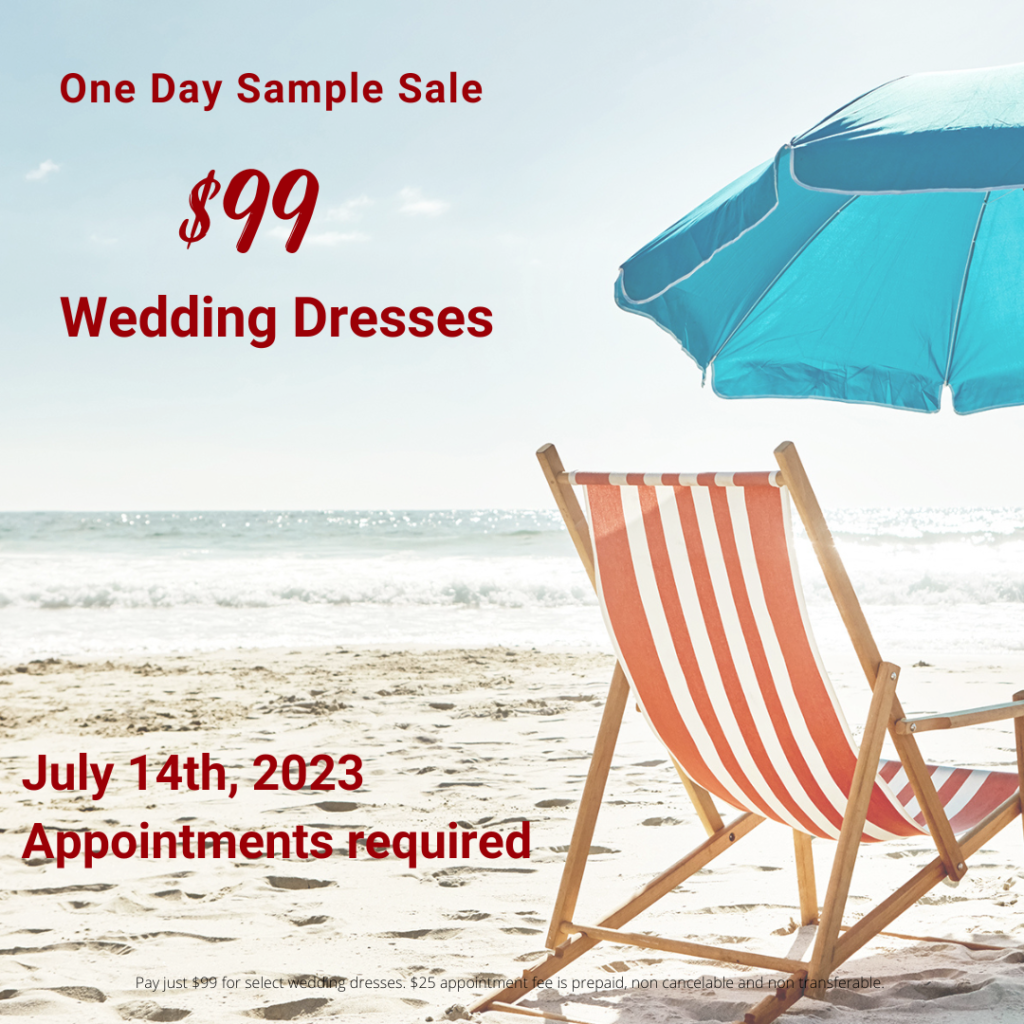 At GARNET + grace Bridal Boutique, we make it a priority to have wedding dress sample sales throughout the year to help budget-forward brides get a great wedding dress for a great price without worrying about potentially ordering from scam sites online. From July 15th-30th, we will have select wedding gowns for just $799, but we've added another special day to our sale for the perfect bargain. For one day only we will have select wedding dresses at just $99!!
It's hard to prepare to fall in love with a wedding dress for a lot of brides out there, so here is how to book your appointment and say yes to the best deal! First, ask yourself, is your budget more important or is your style more important? If your budget is at the forefront of your decision making, then you are ready to move forward and book your $99 Sample Sale appointment. If style is more important, then come to our $799 wedding dress sale from July 15th-30th. Keep in mind, we do not carry jumpsuits or short wedding dresses.
If you have decided to come to our $99 wedding dress sale, then all you need is a $25 booking fee to secure your spot. It is not recommended to walk-in on that day, as we are already anticipating a very busy day for our stylists and one is not guaranteed to be available for you if you walk-in without a wedding dress shopping appointment set either online or by calling one of our locations.
What you need to bring to your appointment is a wedding date, up to 3 people that you will need with you (especially if someone is gifting your wedding dress to you), any shapewear or at least skin-tone undergarments, and a mind open to possibilities. At G+g Bridal boutique, we are very proud to say that we intentionally reach out to our brides before their appointments and talk about details of their wedding so we can understand the vision, we talk about any challenges and how to make our brides more comfortable, and we talk about what they're looking for in their wedding dress so we are prepared to give our brides a personalized experience. Even if your budget is $99, we want to hear from you before you come in!
It will be a shopping day filled with fun, celebration, and all-around good vibes, so be sure to book your wedding dress shopping appointment for our $99 wedding dress sale before spots fill up! GARNET + grace bridal boutique has locations in Whittier, California and Hayward, California to service northern and southern California brides. Book now to save big on a designer off the rack wedding dress!