Fall is one of the most romantic times of the year. Did you know that October is the busiest month for weddings?? It's a perfect combination of cozy vibes, warm colors, and the start of the season for family and loved ones. Anyone would love to celebrate love during this time! If you're interested in getting married in the fall, here are our favorite fall 2023 wedding dresses that are sure to give you all the cozy, warm feelings.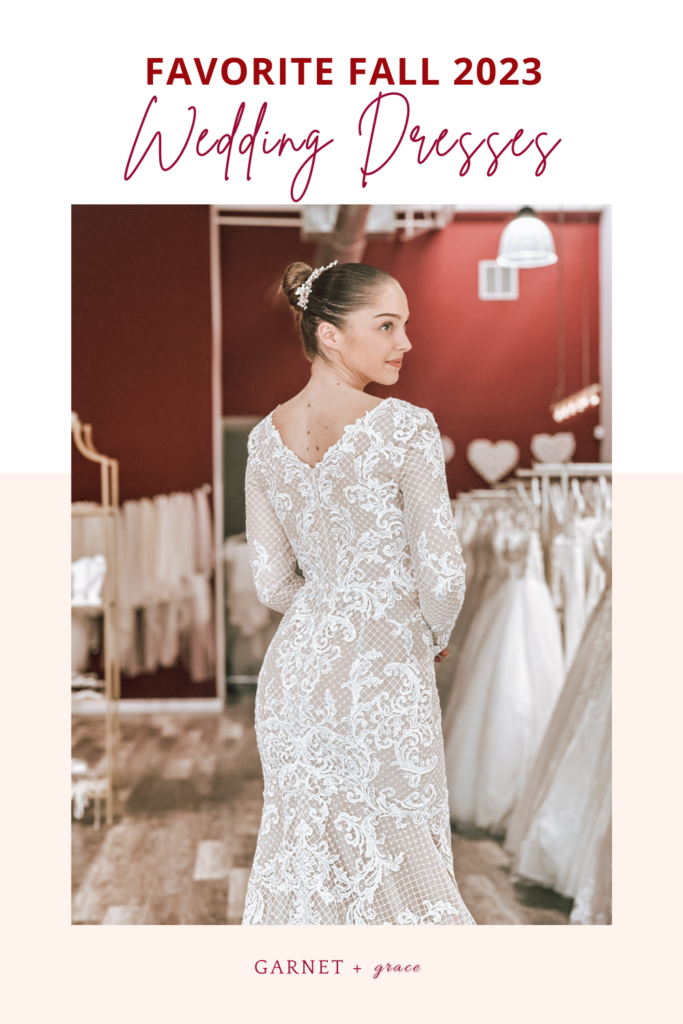 For our beautiful, curvy brides that love an elegant and flowy skirt, we recommend this gorgeous ballgown. It has two kinds of ivory lace, a layer of chantilly and a layer of scroll appliqué to give the design an essence of traditional, classic romance. Not to mention, it twinkles in the light just a little bit. To help the lace stand out, the underlay is a champagne color that evokes warm feelings and can blend into the skin, leaving the bride looking ethereal and magical. You can find this dress at our Whittier, California bridal boutique.
This fully laced sheath wedding gown has just a hint of nude color underneath a very soft array of scroll lace. For the bride that's getting married in a rustic barn, romantic winery, or at a stunning beach, this wedding dress is light and very comfortable to the touch on the inside. It has a classic sweetheart neckline at the front and a keyhole back. If you're a bride who loves the idea of exploring far off places, but also loves the comfort of their own home, this is the wedding dress for you. You can find this wedding dress at our Whittier, California bridal boutique as well.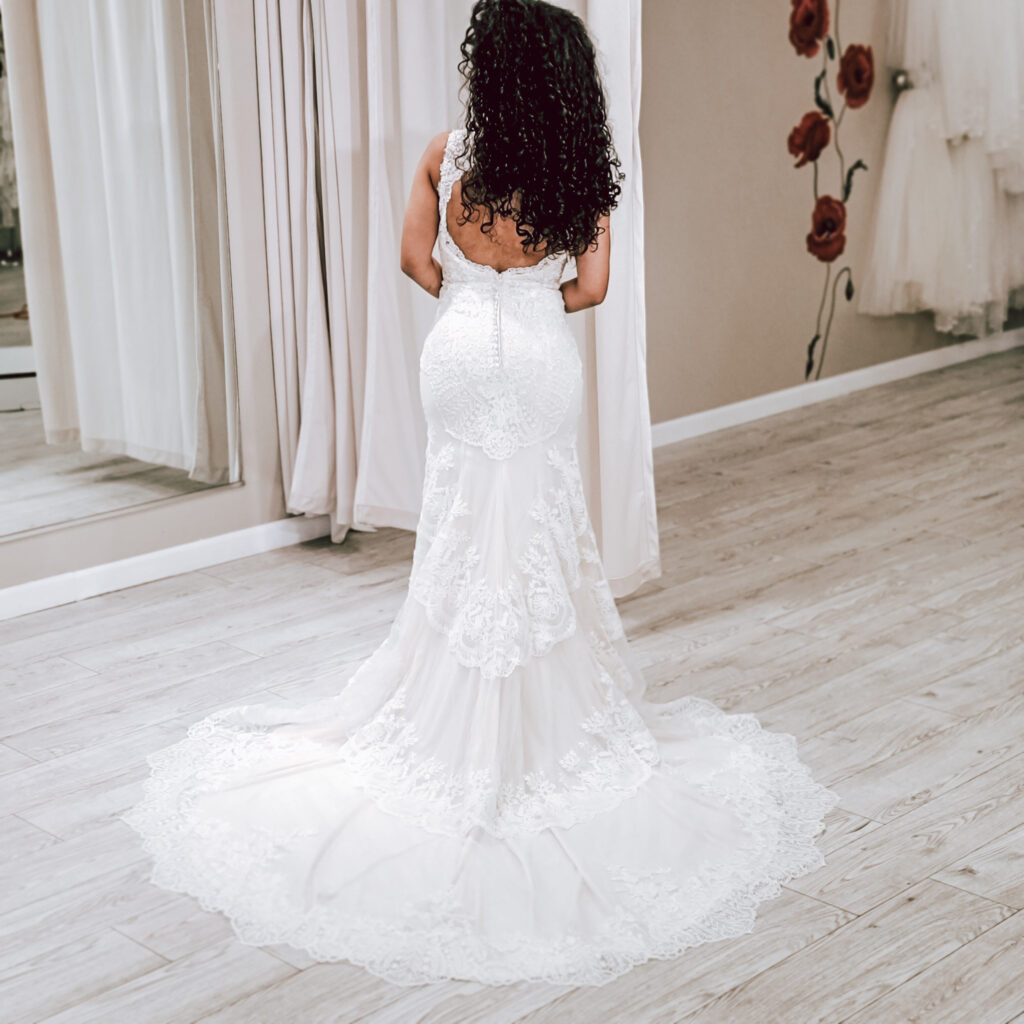 Fall can be such an uncertain time depending on location and weather. It could be brisk and chilly all day into the night, or even a warm ceremony which leads into a chilly reception in the evening. Sleeves are always a practical idea to stay comfortable, but this fitted long sleeve lace wedding gown takes it to the very next level. The way it forms to the body makes it look like the lace is painted on your natural body, which will definitely give you that wow factor as you're walking down the aisle. Don't worry if the sleeves don't fit just right when you're shopping, they can be altered to fit you perfectly for your wedding day. You can find this long sleeve lace wedding dress in our Hayward, California bridal boutique.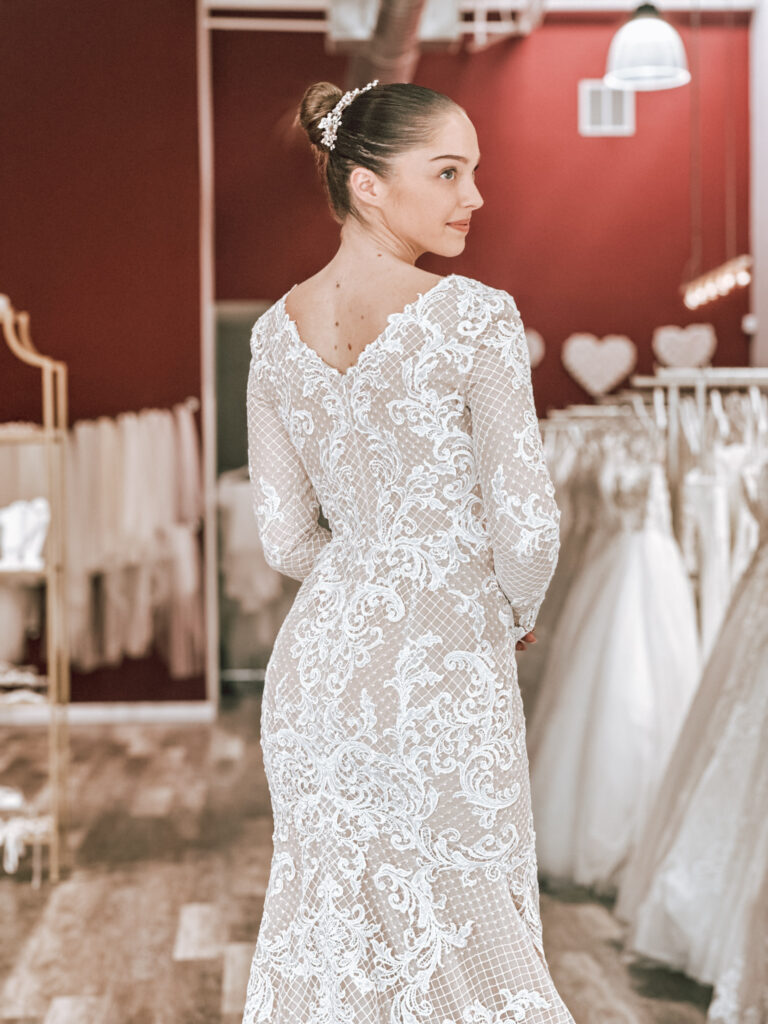 At GARNET + grace Bridal Boutique all of our wedding dresses are sold right off the rack, so there's no long wait for your bridal gown. Shop now to check out our favorite fall 2023 wedding dresses before they're gone!