Brides can look back on their wedding photos in different ways, depending on the bride. Sometimes they can look back on it fondly with sweet memories, other times they'll ask themselves what on earth they were wearing. As we've seen from our mothers wedding photos, wedding dress styles change and tastes change as time moves forward. It's almost inevitable that a bride will look back at her photos in 10 or 20 years and think about how different wedding styles were. But there is a way a bride can possibly skip that feeling altogether. We ask our brides how they want to feel in their wedding dresses, and if they say "timeless", here are some timeless wedding dresses that we would recommend for them.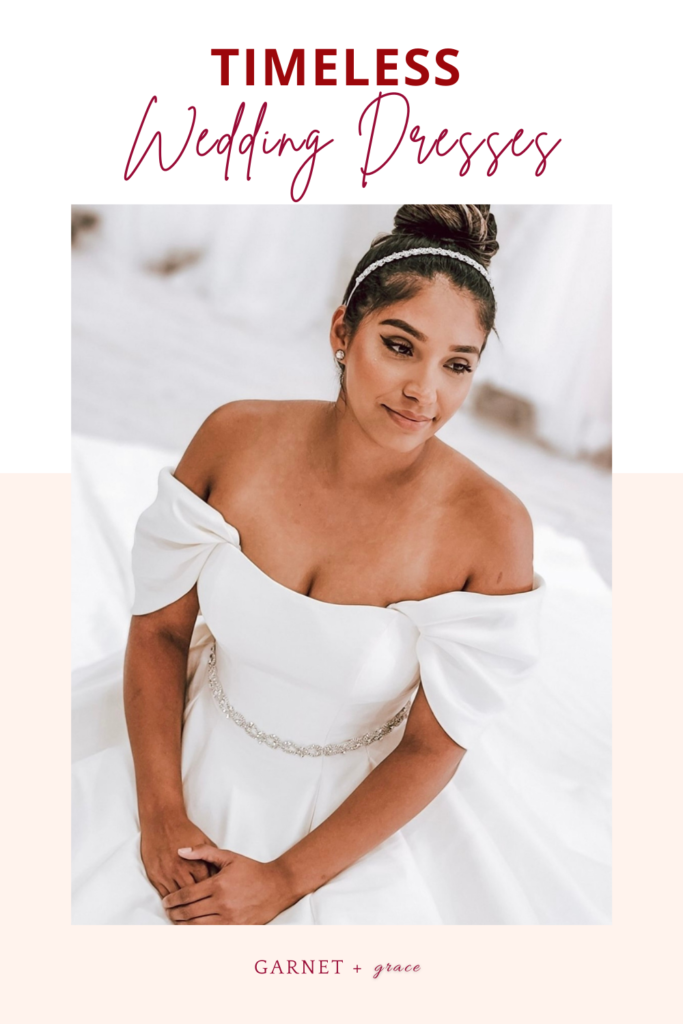 Simplicity is the key to timelessness. The less a wedding dress has going on, the more likely it is to stand the test of time. But there are ways to achieve simplicity without being boring, too plain, or even looking too old. This gown is a perfect fit for a timeless, elegant event on a beach, in a backyard, in a garden, or even in a courthouse. The square neck, which is a straight line going across the bust of the dress instead of dipping down into a v neck or sweetheart, makes the bride look incredibly classy while also showing off just the right amount of skin. Though the lines are clean with no ruching (gathering of fabric to form gentle folds), the special detail of this off the rack wedding dress are the simple buttons going all the way down the train to create a sense of romance and elegance. Buttons down the train are a sweet detail to add to any wedding dress to give it a hint of timelessness.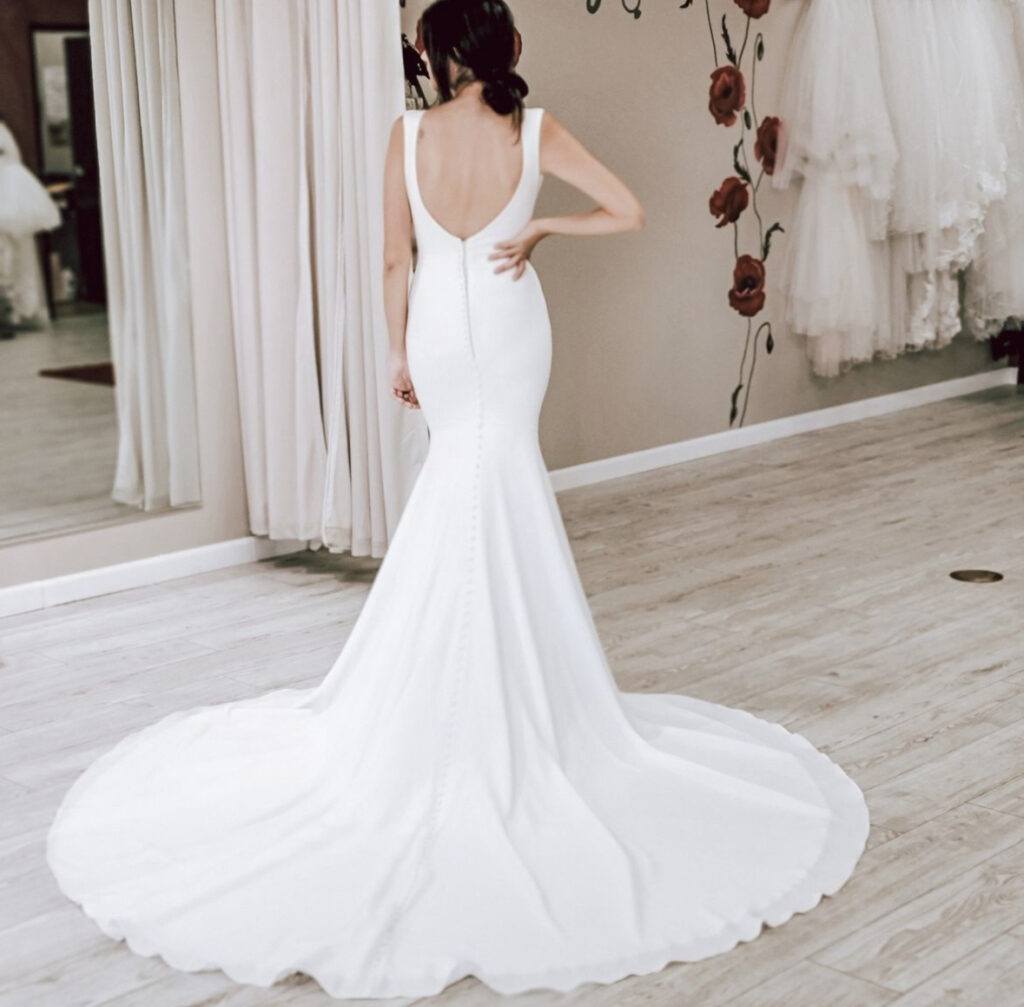 This wedding gown is designed by Colby John; it's a simple yet grandeur bridal gown made to make any bride feel like a queen on her magical wedding day. The wedding dress made from soft and delicate antique ivory mikado. Antique ivory is a shade of ivory that is just a bit warmer than a traditional white/ivory color. Mikado is a fabric similar to satin that feels lighter when it's worn. The ballgown wedding dress silhouette with puffy off-of-the-shoulder straps makes this gown fit for royalty, still maintaining its simplicity with clean lines and classy scoop neck. It is easy to add a blingy belt to this wedding dress to make it sparkle more. Find this timeless wedding dress in our Whittier, California bridal boutique.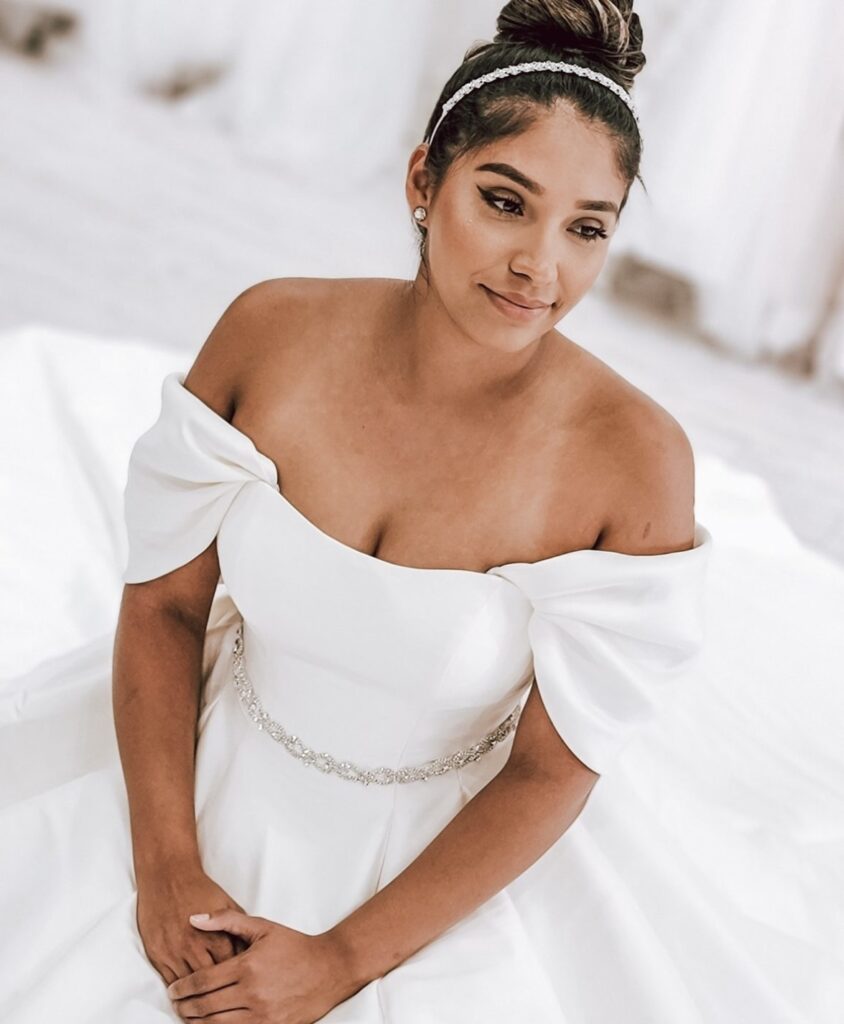 A perfect blend of modern and timeless, this wedding dress is only called a ballgown because of the silhouette. However, it has half the hassle that a regular ballgown offers with only one layer of mikado and a high leg slit that is perfect for the bride who loves to show off. The bodice, which is the top of the dress, is lined with boning (hard plastic sewn into the dress to provide support) that accentuates the waist of any bride. But the ruching of the mikado on the bodice hides the boning so it maintains its timeless look. It is still GARNET + grace Bridal Boutique's most popular wedding gown in our Los Angeles, California area bridal store for the elegant and timeless simplicity while also blending in with the wow factor of modern trends.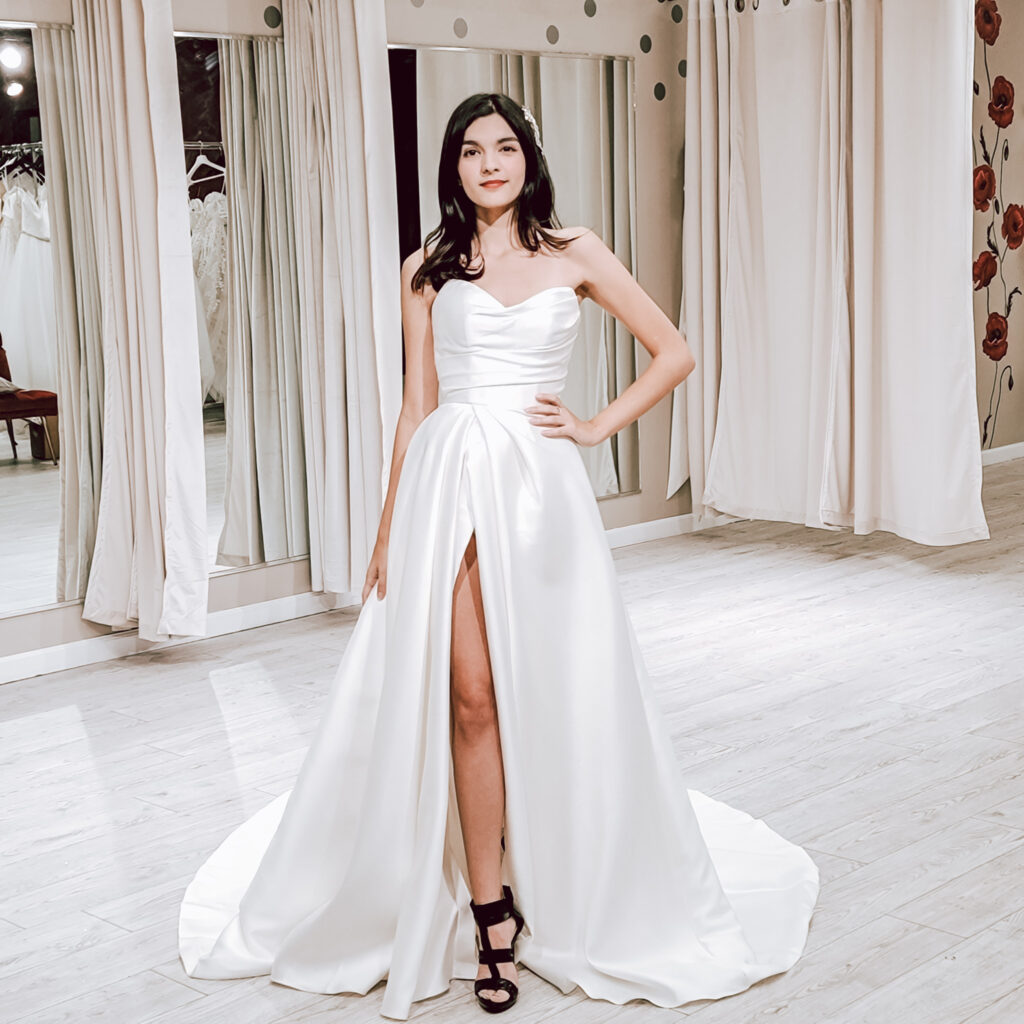 If you're looking for a timeless wedding dress, ask our bridal stylist for a satin, mikado or crepe wedding dress from our off the rack wedding dress collections. We also have a bridal boutique in Hayward, California. Book your appointment during our annual wedding dress sample sale July 15 – 30th and buy a designer wedding dress for just $799!