With summer right around the corner, brides have been getting excited to find a wedding dress for their summer wedding. They have been on Instagram, Pinterest, and Tiktok searching for their styles. One thing these sources never mention is what things you need to bring wedding dress shopping. Most of us assume that when we shop, we need us and a wallet; but that is far from the case. There are so many things we need before we go wedding dress shopping. Here are our top 5 things to bring wedding dress shopping.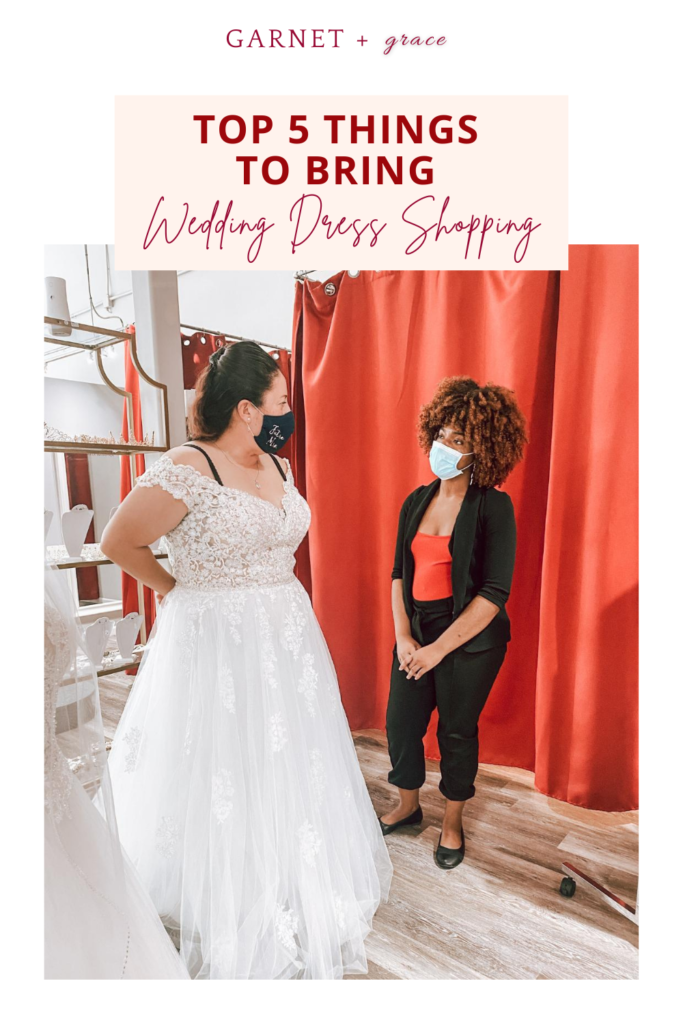 One of the most important things you need to bring when you start wedding dress shopping is a wedding date. A wedding date is so important for you and your stylists. A wedding date gives us a season, a theme, and a timeline. You may say "a season"? Yes, a season. We like to know if it is during the winter, summer, spring, or fall is. As a stylist we like knowing what season you're getting in because if your getting married outside in December, we all know it will be cold and that's a factor we need to consider when picking out the perfect dress. Same as outside in August; I'm less likely to pull a thick heavy dress that you'll probably overheat in. Instead, I might pull a wedding dress that's light weight and breathable, so you aren't miserable all day.
Also, the time of year plays into the theme. I see how color themes coordinate with the time of year. We see a lot of pastels in the spring, fun colors in the summer, and richer tones in the fall and winter. All that matters because we like helping brides find a dress that will go perfect with their color theme and overall feel of their wedding.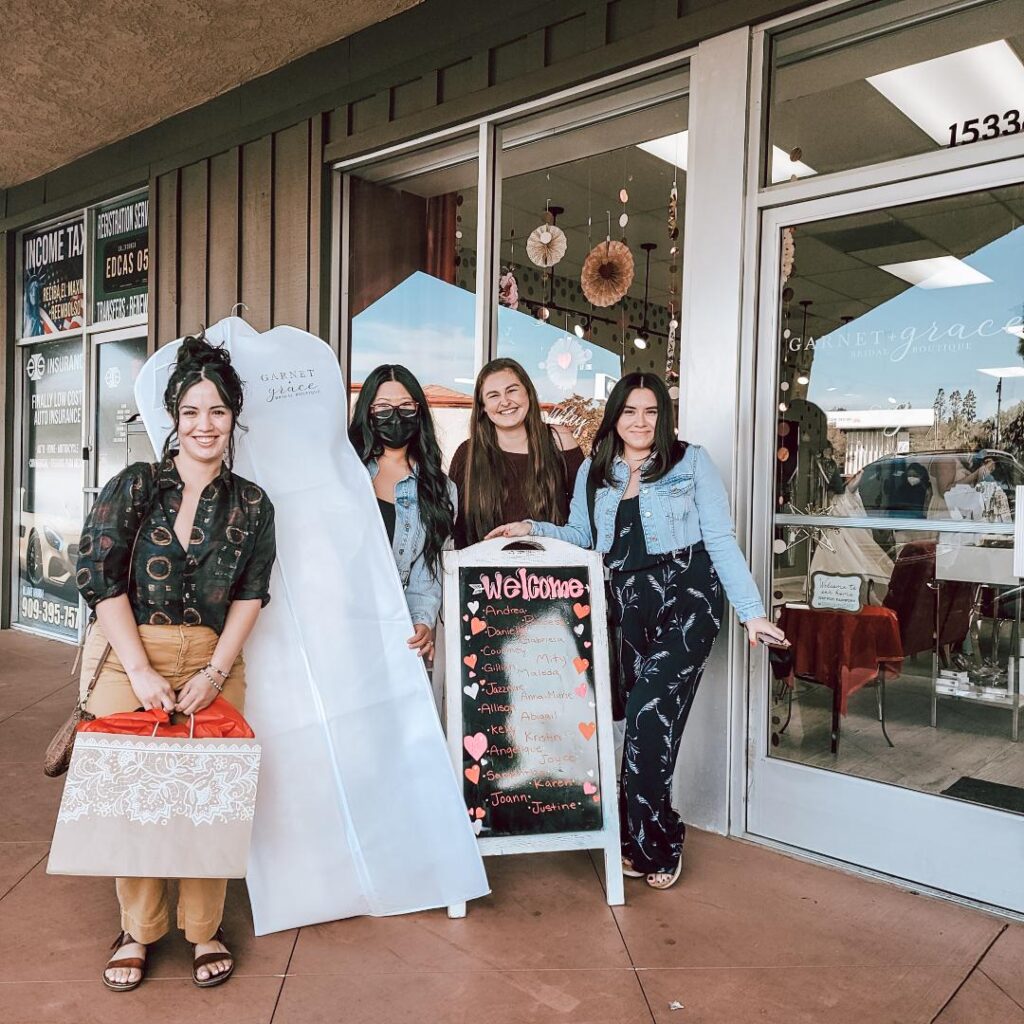 Finally, a timeline, this one is most important. We like knowing do we need a year to get your wedding dress or do you need to find a wedding dress today. A date is super important because there is a whole timeline that revolves around the wedding dress. Say you find your wedding dress today and are getting married in August, alterations are three months before the wedding which puts you at May. From now to May you need to find matching shoes, bridesmaids dresses, accessories, and more. That's a lot of things to do in a month. We are here to help the process of not only wedding dress shopping, but the wedding process run as smooth as possible. So remember, when you go book your first appointment make sure you have a date.
The next important thing you need to bring wedding dress shopping is a wedding venue. A wedding venue sets the scene of the wedding. We love to know all the details of the magical day. We love knowing if its all outside, indoors, at a church, a beach, or anywhere. This venue will help paint a picture for the stylist and you when you're in your dress. We need a venue because some venues have unwritten rules.
For example, say you're getting married at a church, we need to know if we are looking for a more modest dress. Does the church require your shoulders being covered? Do they require a modest neckline? These are all things we need to know so we can eliminate dresses before even looking for them. I have had a lot of bride having these unique venues over looking the mountains in Colorado or in Yosemite. We need to know if you'll be hiking 3 miles to your ceremony spot or changing there. Say the bride is hiking to her venue, I'm more likely to pull a lightweight dress that's easy to carry while hiking then pulling a full blown ballgown with a hoop skirt. A venue is so important to you and a stylist because the venue has such a big impact on your wedding dress style. When booking your bridal appointment, don't forget to bring a venue.
Another important thing you need to bring dress shopping is a budget. At GARNET + grace we have wedding dresses of all prices. We have as low as $699 and as high as $3400. We like having brides establish a budget before coming because we all know wedding can get expensive and we care about our brides and their budgets. A budget is important because it narrows down the selection of designer wedding dresses we can pull for our brides. We will never pull a $2,000 dress when your budget is $1000. Our goal is to find your wedding dress with the elements you want in your budget. Even having an alterations budget, accessories budget, and wedding dress budget is something brides need to consider when shopping. Before going to your wedding dress appointment, sit down with your fiancé and/or anyone helping pay for your wedding dress and establish a budget for your wedding dress. This will help you and your stylist out!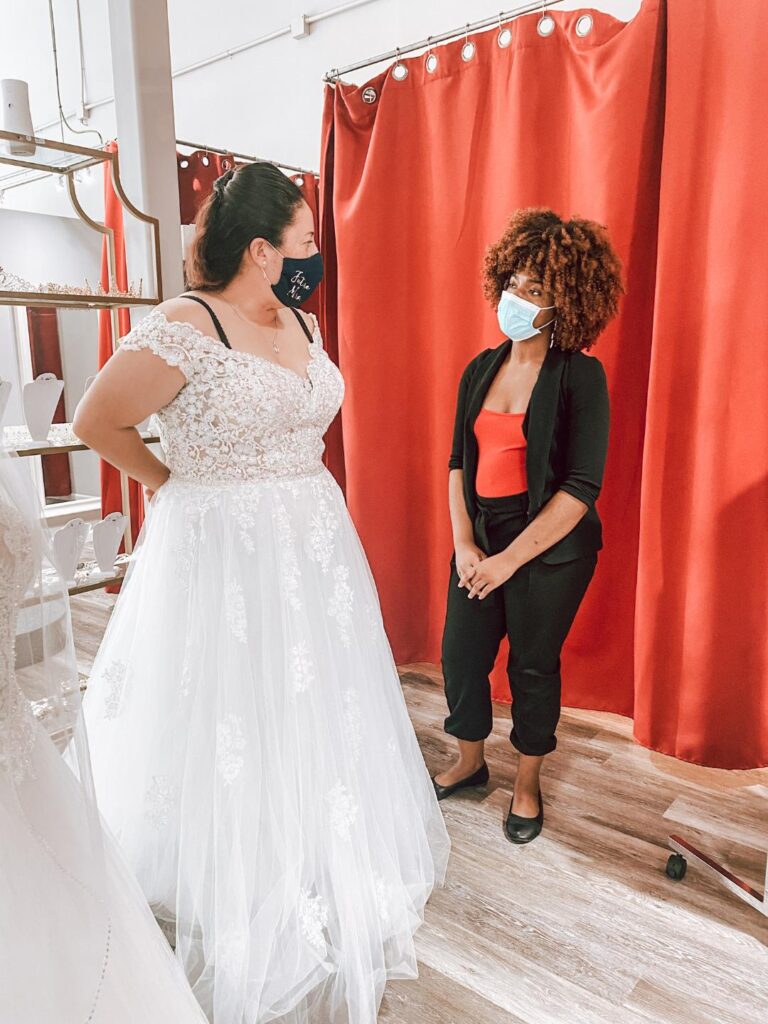 The next important thing you need to bring wedding dress shopping is nude underwear/ shapewear. I tell all my brides to wear nude or light under garments. No one wants to walk out for the first time in a wedding dress with bright red panties showing through. Remember you'll most likely be wearing a nude thong or no-show underwear the day of your wedding. So, whatever you think you'll be wearing the day of your wedding bring to your appointment. If you think you'll be wearing shapewear with your wedding dress, bring that to your appointment. All these things will give you a better idea of what it will look the day of the wedding. When you're making your wedding dress appointment make sure to add nude undergarments.
The last important thing to bring to your bridal appointment is an open mind. Please be open minded when trying on wedding dresses. You'd be surprised on how many brides come in saying they want one thing and walk out with the opposite. I also tell all my brides the wedding dress might not look as good on the hanger as it will on you. So instead of passing on a wedding dress, be open minded and try it on. Your stylist pulled that wedding dress for a certain reason and not just for fun. Even if you already know what style of wedding dress you want, still try on other things because we always say wedding dresses are magical and magic happens when we least expect it. Coming with an open mind will make your appointment less over whelming and stress free.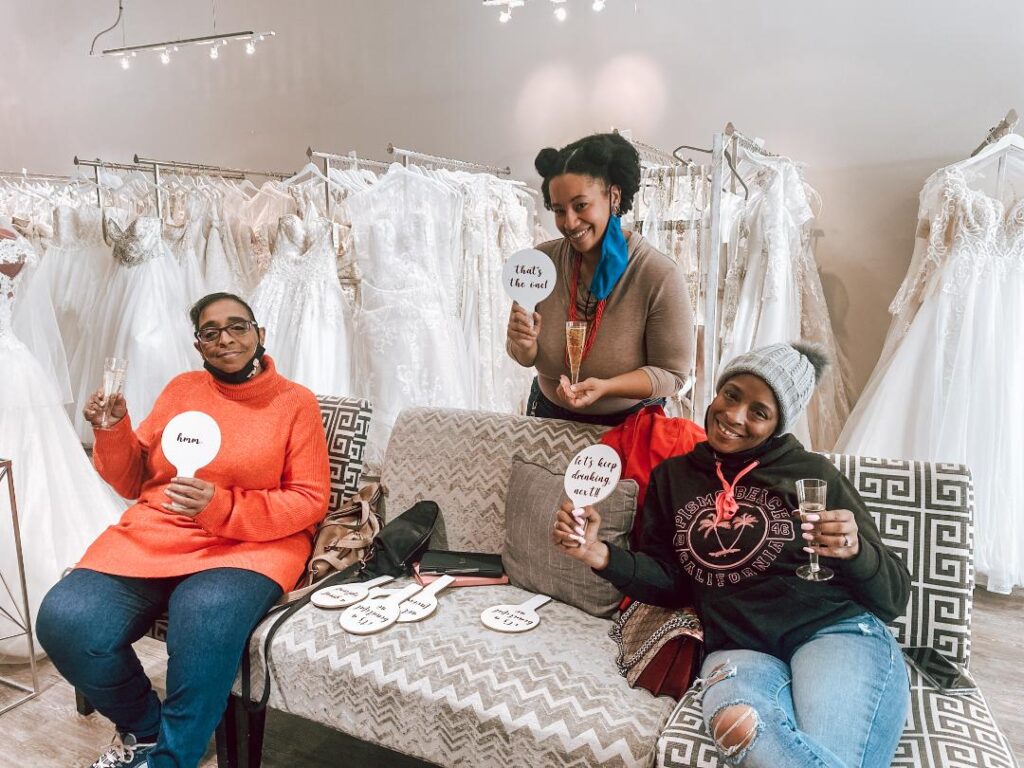 Before you push the button to book the appointment online or to call a bridal store. Ask yourself do I have these 5 things to bring to this wedding dress shopping appointment. If you do, go ahead and book that appointment! If not figure out what is missing and try to get it before wedding dress shopping. Trust me it will help your stylist out, but most important this will help you out. No one wants to stress about their wedding, and if you don't have these 5 things now let us know and we are more than happy to recommend how/ where to get them.