Your wedding day is one of the most important days of your life! It is a day of expression and love. Everything that makes you and your significant other who you are will be a part of your big day, so why shouldn't your dress be the same way? Your wedding dress can be an extension of your personality and can be just as unique as you are, so you can get your dress, your way!
If you are not sure where to start wedding dress shopping, our team of stylists at GARNET + grace Bridal Boutique are here to be your guide in personalizing your dream wedding gown. As an example, let's look at the simple, ivory Maggie Sottero wedding gown with overall floral lace and a classic, sweetheart neckline. Alone, this gown is a beauty, but the goal is to elevate the beauty with a pinch of your personality.
One of the most common ways to personalize your wedding gown is by adding a belt or sash. Adding a touch of bling around the waist really changes a dress. The belt will not only change the overall look, but it will also bring out your natural curves. If you don't like bling and would rather choose a ribbon, bow or floral motif that matches your wedding colors, you could always add a sash. And just like that, you have a stunning new, personalized gown!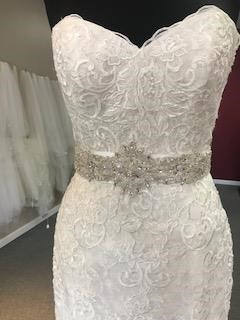 If adding a belt doesn't fully do it for you, another option is to add sleeves. There are tons of options here! You could add a full-length, three-quarter-length, or cap sleeve to your bridal gown in any material of your choosing. For our example, we used these stunning, crystal sleeves! Perfect for a fun, and classy look!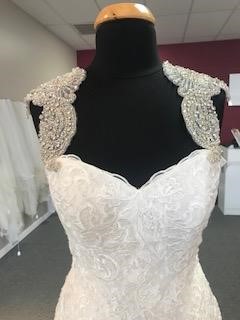 Thinking about adding a statement piece? Who needs a necklace when you can get shoulder jewelry! You might be thinking, "Jewelry doesn't help you personalize a wedding gown." But I am here to tell you, it absolutely can! Jewelry, like this piece, help bring out the neckline of the dress and gives it some of the sparkle it may be missing. If you are looking to shine on your wedding day, statement pieces are definitely the way to go!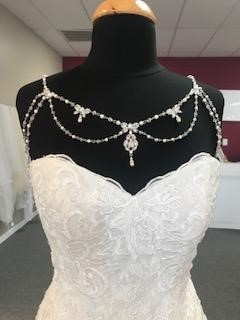 There are so many different ways to accessorize and personalize a wedding gown. If you can dream it, you can certainly do it! It is important to feel like yourself on your wedding day. After all, you found the love of your life by being who you are, so put a little bit of who you are in your dress! Our stylists at GARNET + grace our experts are at your service. Both our Bay Area bridal store and our Los Angeles area bridal boutique carry a complete selection of one of a kind accessories like belts, sashes, blingy cap sleeves and shoulder jewelry so you can get your dress, your way! Call today or book your appointment online. We can't wait to help you style your dream gown!